We are a provider of high quality custom Glass Shower Doors, Mirrors, Windows and Glass Doors.  Our custom installations are done by skilled craftsmen that get the job done right the first time.  We have a very large assortment of products and materials that allow us to give you exactly the look and features you need.
Well Established
Locally Owned
Licensed, Insured, and Bonded
From Start To Finish
High-Quality Glass
Well Established
Well-established, very reputable glass company in Simi Valley
Community Glass was started in 1960 right here in Simi Valley.  We have grown throughout the decades into a glass company that serves customers at their home or business throughout Ventura County and parts of Los Angeles County.  We have performed 1000's of glass jobs in all of those years.  Many of our staff of glass professionals have been with us for more than a decade because we treat our employees well too.
Locally Owned
Licensed, Insured, and Bonded
From Start To Finish
High-Quality Glass
Community Glass was established in 1960
We have been right here in Simi Valley for over 50 years now.  That makes us a very well-established glass company that you can rely upon to be here when you need us.  We are a family owned business by owner, Dan Burlingham.  Dan has carried the traditions of high skilled custom glass and mirror work for residential and commercial work.  We can boast that most of our glass professionals have been working for us for over a decade.  We work hard to keep our employees happy so we can retain the highest quality workers to perform the services for your projects.
We emphasize high quality
When you want a custom glass project to go smoothly, on-time and made of superior materials, you can trust Community Glass & Mirror.  We've made lots of friends out of our customers by providing them with superior products that last longer and perform better.  Our employees' workmanship shows in the great attention to detail in our work.  We're not the type of company that rushes in, does "just enough" and leaves.  We take our time to do it right and on schedule.
Licensed, Insured and Bonded Contractor
We are a licensed contractor in the State of California (License No. C17 689624) .We carry full liability insurance, workers compensation insurance and we are bonded as well.  We believe that working above board like this puts you at peace because you don't have to worry about the liability by hiring unlicensed or uninsured workers in your home (especially with glass).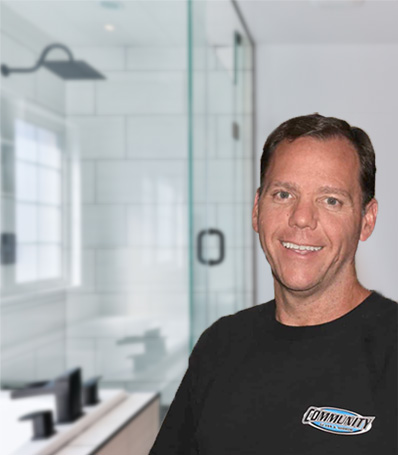 Community Glass & Mirror is based in Simi Valley, California.  Our company offers sales and services to Ventura County and parts of Los Angeles County.  We have developed numerous customers in Simi Valley, Moorpark, Thousand Oaks, Newbury Park, Westlake Village, Agoura Hills, Oak Park, Calabasas, Woodland Hills, Reseda, Northridge, Canoga Park, Malibu, Topanga Canyon, Chatsworth, Porter Ranch, Granada Hills and beyond.